Rabbits are one of my favorite animals, I love to draw them, and they have a special place in my heart. The amazing organization,
The House Rabbit Society
, does excellent work in pushing the standards of domestic rabbit care, education, and rescuing and re-homing abandoned, neglected and unwanted rabbits. Rabbits are the third most common pet found in shelters, behind cats and dogs. Who'd have guessed, right? Bunnies are more complex than most people expect (psst-they're not hamsters!), so many of them get dumped, re-homed or surrendered to shelters and rescues without being given a chance to be understood.
Rabbits are quiet, curious, friendly, playful animals with certain instinctive needs, such as digging and chewing, that need to be met appropriately to avoid destruction to your home. They need to be spayed and neutered, just like cats and dogs, to help prevent unwanted pregnancies, prevent reproductive cancer, and deter unwanted hormonal behaviors related to maturity. That said, do your research before bringing home a rabbit, and if you already have a bunny (or two!), refresh you bunny know-how over at rabbit.org!
The HRS is currently in 6th place for winning $300,00 from The Animal Rescue Site. Want to help the HRS and it's nationwide chapters save more bunnies? Please vote for them!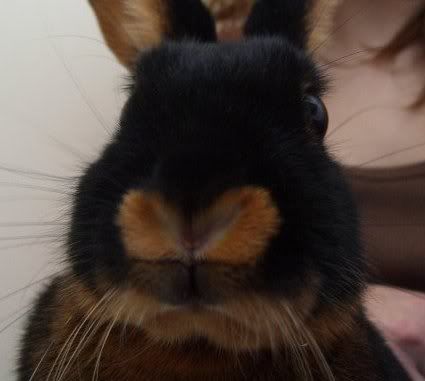 Bean wants you to help the HRS!
How to Vote for the HRS:
1) Go to
http://www.theanimalrescuesite.com/clickToGive/shelterchallenge.faces?siteId=3
2) Type in Shelter Name:
House Rabbit Society
,
CA
for state, and
Richmond
for the city.
3) Search for it and
vote!
4)
Repeat daily!
And tell everyone you know!